Sydney accounting firm DFK Laurance Varnay (DFKLV) is proud and honoured to have been awarded the 2022 DFK ANZ Firm of the Year Award at the recent DFK Australia New Zealand (DFK ANZ) Conference in tropical Cairns, QLD.
While this honour was a very happy surprise on the night, DFKLV's group of Directors were not surprised that the efforts of the entire DFKLV team were rewarded this year. 
"Our staff are hard-working, dedicated to our clients, with a desire to grow and achieve, and this is evident in their efforts every day of the year", said DFKLV Director, Tony Nguyen. 
The DFKLV Directors were particularly proud to win this prestigious award this year, after navigating the business through the challenge of the COVID-19 pandemic. "Our team have been a guiding light for our clients through the pandemic, helping them to manage uncertainty, adapt to an ever-changing commercial landscape, and remain agile and resilient," said DFKLV Director Colin Grady.
DFKLV Director Faizal Ajmat commented that the award is an indication that the firm is at the top of its game. "Winning this award is a reflection of our firm's commitment to excellence despite the challenges we have faced. We are proud to be considered among the top firms in our DFK ANZ association, and we thank DFK ANZ for acknowledgement."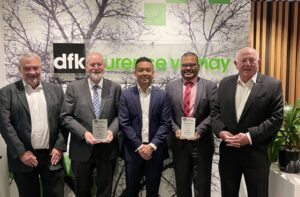 In addition to the Firm of the Year award, the DFKLV was awarded the Foundation Member award on the night, which celebrates 30 years of DFK ANZ and recognises DFKLV as one of the founding members of the association of accounting and business advisory firms. DFKLV Director, Tony Nguyen was also appointed to the Board of Directors for DFK ANZ during the conference, further cementing the firm's influence in the association.
DFK ANZ is a leading accounting association, established in 1991, currently consisting of 14 member firms in the key cities across Australia and New Zealand. DFK ANZ is a member of DFK International, the 6th largest Accounting Association in the world (International Accounting Bulletin's (IAB's) annual 2022 World Survey Report), and gives clients anywhere in the world seamless access to the experience and expertise of DFK's 220 member firms in 439 offices in 95 countries.
If you'd like to talk to an expert from our award-winning team about how we can help your accounting and auditing needs, contact us today.